Tired of having a mess everywhere? To be able to keep an organized home, every single item needs to have its own place. Storage bins are a great way to put similar items together and designate a forever sport for the container.
Benefits
You will know where to look first when you need a certain item or where it gets lost.
It will help look your house organized and tidy.
Take a look at these great options!
This post contains affiliate links, which means if you make a purchase through these links, I may receive a small commission at no extra cost to you.
Toys and Diaper Station
It has a great design with neutral colours and it holds a ton of toys. I also use it to make a small diaper station with cloth diapers, wipes, diaper cream and frequently used items, like a comb, moisturizer and hair detangler for my toddler.
Where to buy it: Amazon
Product link: Decomomo Foldable Storage Bin
Books
I got this one in black to match with my dark furniture but there are several colours available. I keep this one on the lower shelves of my computer desk as a way for my son to get entertained while I do some work.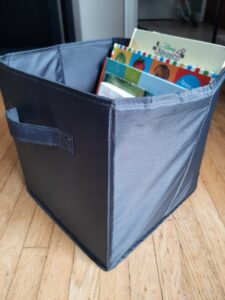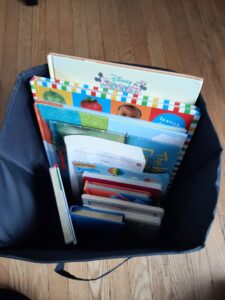 Where to buy it: Amazon
Product link: 6 pack – SimpleHouseware Foldable Cube
Closet
To help increase the storage in your linen closet, add containers to separate sections and keep "bulky" items put. I have this closet near my back door and it functions as my son's "get out the door" storage.
The light containers are used for mittens and sweaters. The dark ones for big jackets and snow pants.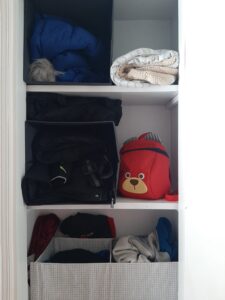 Long Term Storage
These bins are very affordable and with a strong build. I plan to use them for all the clothes that my almost 2-year-old does not wear anymore and I am saving for my next child. You can stack them vertically and see through them to avoid opening lids while looking for something. Add a label to make things easier 🙂
Where to buy it: Walmart
Product link: Sterlite 45 L Hinged Storage Box
I hope these items inspired you to tackle some areas of your house that require decluttering and add some storage bins along the way. Check out my Decluttering for Beginners post as well!